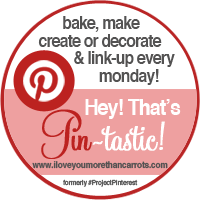 I'm linking up with
AP
over at
ILYMTC
for her amazing series
Hey, That's Pin-tastic!
It's the week of love with Valentines day on Thursday and I decided to try out a love-tastic cookie recipe I found on Pinterest.
I halved the recipe simply because I don't need the temptation of having that many cookies lying around the kitchen.
Recipe
1/2 lb butter
150g sugar
220g brown sugar
2 small eggs
1 tsp vanilla
385g flour
pinch salt
food colouring
chocolate chips
Mix butter and sugars together until well combined.
Add eggs and vanilla and beat well.
Add dry ingredients to the sugar mixture and mix well.
Add food colouring to the dough .
Mix until completely pink or the color you are trying to
achieve
.
Mix well so the chips are incorporated through the dough.
Make balls of dough and put on a cookie sheet.
Bake at 180c for 15 mins.
Now they looked nothing like the picture I pinned so that was a fail on my side but they tasted fantastic.
Looking at the amount of cookies I got I'm really glad I halved the recipe.
If I was making them again, I'd probably cut them with a heart shaped cookie cutter the make them even more love-tastic.
Happy Monday!