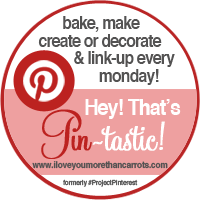 I'm linking up with the lovely AP over at
I love you more than carrots
for her amazing Hey! That's Pin-tastic! Link-up where all of us Pinterest lovin' bloggers get off our butts and bake, make, create or decorate some of our many pins.
This week I'm making a flower display for my dining table.
I wanted to make a wreath for my dining table that I would have for years to come. Now don't get me wrong. I do love fresh flowers but I just can't justify spending a small fortune on a fresh arrangement that I'll have to throw away. So I made an artificial one and I love it.
Here is what you'll need.
A block of florist foam. (make sure it's for artificial flowers)
A bowl for a table centerpiece.
Artificial flowers.
A Candle holder and candle.
First cut your florist foam to size. Leave it a tight around the edges and it will hold better.
Start with your candle in the center of your display.
Then build up your display with your flowers. I added some pine cones and white flowers to break up all the red. I also used some fake holly sprigs the make it look different.
And there you have it. It didn't break the bank and I'll have it for a long time if I mind it.